Vision Sensor CS 50. The world's smallest industrial vision sensor.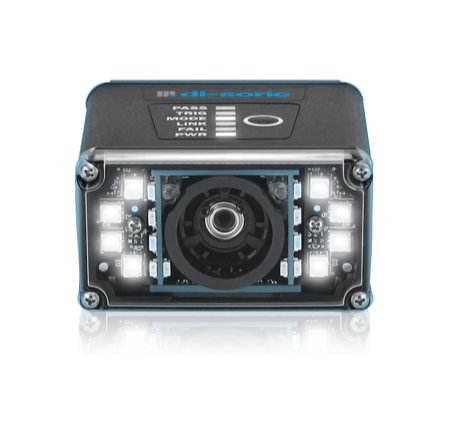 VISION SENSOR CS 50
TOP PERFORMANCE FOR NUMEROUS APPLICATIONS.
The world's smallest Vision Sensor offers powerful performance with easy handling for numerous inspection tasks in the area of industrial application – the very best performance for completeness checks, rotation verifi cations, presence checks, counting objects and much more.
HIGHEST STANDARDIZABILITY
AND INTUITIVE HANDLING BY:
CLICK-ZOOM
Each of the two focal lengths that can be toggled at a mouse click enable use in a number of different applications (depending on whether you have the 5/10 mm or 16/32 mm model). The hardware does not need to be opened. As a result, there is no chance of misalignment.
CONNECTIVITY
In addition to our PROFINET and RS232 standard protocols, the CS 50 is also able to communicate with your industrial environment via Ethernet IP and TCP IP.
di-soric LINK for PLC-compliant communication
As the sole producer, we supply PLC-compliant data formats for a fast, convenient connection to your PLC. This makes it possible to control the parameters in a job via external systems using a direct connection to your machine control system.
5 EFFICIENT TOOLS
The self-explanatory guide through the 5 integrated tools makes job creation intuitively easy.
CLOUD-LINK
The web server integrated on the vision sensor enables user-friendly visualization of processes in the web browser.
1.4 GB of free memory
For an average job size of less than 1 MB, you are alloted approximately 1.4 GB of free RAM space for an almost unlimited number of jobs.
PERFORMANCE THAT CAN BE SEEN.
THE CS 50 FEATURES.
Up to 300 % faster PERFORMANCE
EASY & INTUITIVE
CLICK-ZOOM & Liquid Lens Autofocus
Standard INTERFACES on board
1.4 GB of free memory
di-soric LINK for PLC-compliant communication
AS EASY TO USE AS A SENSOR.
THE CS 50 TOOLS.
EFFICIENT TOOLS FOR A VARIETY OF TASKS.
The 5 integrated tools make it possible to efficiently, quickly and practically implement your verification tasks.
The values are linked logically and can be exported explicitly as pixel values or statistical values.

The individual tasks are intuitively designed and can be set up and implemented easily.
LOCATE
The Locate tool dynamically finds an unlimited amount of samples within a freely selectable image section – simultaneously.
COUNT
The Count tool counts the number of particular objects within a search window. It counts objects that have been taught into an image and is ideal for checking the correct number of parts within a workpiece carrier.
PRESENCE
The Presence tool detects the presence/absence of a feature based on pixel values/contrast.
MEASURE
The Measure tool carries out pixel-based height or width measurements between edges or points. Angle- and radius-measurements can also be carried out.
LOGIC
The Logic tool makes it possible to make connections among CS 50 boolean results simply and logically.
A VARIETY OF APPLICATION AREAS
This compact and fast device with its own processing power complies with a variety of standard and special requirements in almost all industries, making it extremely versatile with respect to standardization.

The individual tasks are intuitively designed and can be set up and implemented easily.
Checking for quality, presence and completeness
Fill level, lid and label placement checks
Position and alignment checks, parts positioning and many more ...