di-soric lighting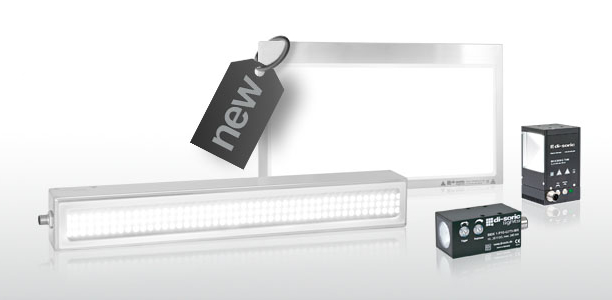 Spotlight BEK-P14
Constant level of light intensity over the entire voltage range
Homogenous luminous field
External trigger input
Internal control of power output
High efficiency
Low levels of heat produced
Robust metal casing
Signal lights SB-RGB
High light intensity thanks to most modern, highly efficient LEDs
Easy operation even without IO-Link possible
Per IO-Link free parameterizable functions
Long-life thanks to intelligent thermal management
Large light field for an optimal display of the machine status
Can be used immediately by 3 color presets: red - green - yellow
High protection class IP67
Magnetic holder set, adjustable mounting bracket and attachable diffusion filter available as an option
Area lighting BEK-FL
Homogeneous bright light – no edge loss of brightness due to light projection from the 4 sides
Constant light intensity over the entire working voltage range
Long-life thanks to high-quality housing and modern electronics
Robust (metal housing, stable cover glass)
Trigger input for switching on without load
Status LED and M12 connector
Stainless steel mounting-set (BW-BEK-FL) for lateral installation available as an option
Modular construction for individual sizes from 150 mm x 150 mm in 50 mm raster
Optional camera hole of 50 mm
Machine illumination MB-NP
High light intensity thanks to most modern power LEDs
High colour rendering guaratees safety at the workplace according to DIN EN 12464-1 / EN 12464-1
Long-life thanks to intelligent thermal management
Homogeneous wide light field for the optimal machine illumination
High protection class IP 67
Trigger input for external control
Dimmable via PWM signal
Magnetic Holder Set available as an option
Adjustable Mounting Bracket available as an option
Machine illuminations with signal light element SB-RGB
High light intensity thanks to most modern power LEDs
Easy operation even without IO-Link possible
High colour rendering guaratees safety at the workplace according to DIN EN 12464-1 / EN 12464-1
Large light field for an optimal display of the machine status
Per IO-Link free parameterizable functions
Long-life thanks to intelligent thermal management
Homogeneous wide light field for the optimal machine illumination
Can be used immediately by 3 color presets: red - green - yellow
High protection class IP 67
Magnetic holder set, adjustable mounting bracket and attachable diffusion filter available as an option
Spotlight BEK-PM12
Extrem small design
Homogenous illumination
Protection class IP 67
All-purpose trigger input
High efficiency
Low levels of heat produced
Robust metal casing
Machine-lighting
These durable and reliable lights are designed for industrial applications especially in general engineering.

High-efficiency power LEDs and an industrial potting encapsulation guarantee excellent operating parameters.

The lights have a trigger input – By means of that they can be turned on and off and are also dimmable.

more information
High Power Barlights
are used in countless applications, mainly in the quality management in combination with vision and identification systems. di-soric barlights are available in several light colours and models and offer a stable and interfering light free analysis.
High Power Backlights
are mainly used in the quality management to verify contours or features of an object in a process safely. The contours of the object will be perfectly outlined and this is the key to a successful edge detection.
more information